The Bi-Weekly Brosnan NYC Crime Brief is a great example of the type of Intelligence as a Service reports that we offer to our clients throughout the United States. At Brosnan Risk Consultants (BRC), we believe that access to actionable security intelligence is an integral cornerstone of a good security plan.This Brosnan Risk Consultants (BRC) crime brief covers the period in New York City from May 17th through May 30th, 2021. The brief compares year-to-date statistics in 2021 with figures collected from 2020 and compares the most current weekly data in the areas of New York City specific to the business interests of BRC.
Additionally, the brief includes analysis of all data by BRC subject matter experts from the NYPD's Detectives' Endowment Association, Inc., the FBI and the CIA. The source of the data examined is the NYPD's CompStat Unit.
As of May 30th, 2021, year-to-date statistics from the NYPD have overall crime figures clinging to a slim negative trend at –1.8% across the five boroughs in the seven major crime categories. The past two-weeks of rising crime data have not helped as crime surged +45% over the last fourteen days. Fifteen murders and 76 shootings blazed the five boroughs bringing the annual totals to 173 homicides and 564 acts of gunfire leaving New Yorkers in peril. It's important to note that the NYPD does not account for gunfire unless it actually strikes someone, so the documented shootings are not a true picture of the gun violence taking place. Hate crimes, mostly against Asians and Jews, continued to rise with 20 new cases reported bringing the annual total to 239. The Hate Crimes Task Force is investigating.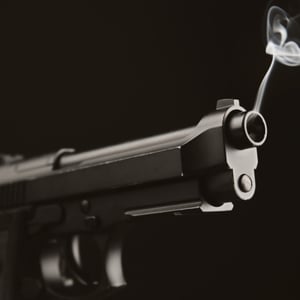 As crime and theft rates continue to climb, retail businesses throughout NYC should strongly consider hiring a company that provides security guard services and also specializes in loss prevention services.
Retail stores and businesses should develop and implement a security plan. It also may also make sense to research and potentially invest in better locks, safes, rolling gates and alarm systems from trusted security vendors and manufacturers.
When planned for accordingly, so much can be done to keep employees and inventory safe from criminal behavior.
Analysis of Crime Statistics Impact to Brosnan's Clients
In the borough of Manhattan South, crime jumped +115% over the last two-weeks. In the last seven days, crimes of violence (murder, robbery and rape) spiked along with 3 hate crimes. Grand and petit larcenies continue to plague the borough showing a +259% spike with 417 new cases reported in just seven days. Below 59th street, year-to-date there have been 8 murders, 16 shootings and 67 hate crimes reported.
The 1st Precinct reported a +73% crime jump over the last seven days, driven mostly by a +632% increase in larcenies with 67 thefts recorded in a week's time.
The 10th Precinct showed a modest +14% crime spike due to minor upticks in rapes, robberies and grand larcenies. Statistics indicate this command has gained control of their commercial break-in problem post Covid.
Midtown South Precinct (MTS) recorded crime sprees of +152% in week one and +100% the following week. Detectives at MTS informed me that crimes of violence and property related crimes are rising faster than they can be investigated. Year-to-date, this command is up in all crime categories.
Midtown North Precinct's (MTN) crime rate skyrocketed +325% over the last fourteen days with 59 major crimes reported. Over the last seven days, felony assaults rose +200%, residential burglaries spiked +167%, grand larcenies jumped +114% and petit larcenies increased a jaw dropping +920% resulting from 51 new cases. Year-to-date, this command is clinging to an overall negative crime figure but trending rapidly in the other direction.
The borough of Manhattan North recorded 266 major crimes in week one and 227 the following week accounting for a combined crime rate increase of +57%. Gun violence exploded with 7 shootings, 4 murders and 5 hate crimes. Transit crime also exploded showing a +575% spike over the two-week period as subway riders encountered slashings, stabbings and robberies. Year-to-date above 59th street, 24 murders and 80 shootings have occurred while stolen cars have risen +62% with 316 vehicles disappearing.
The 30th Precinct reduced crime in the last seven days by –9% following a week where the rate rose +100%. Robberies, burglaries and grand thefts made their mark during week one. Despite the overall –9% reduction during week two, misdemeanor assaults, grand thefts and petit larcenies had minor upticks.
The lower portion of the Upper East Side (UES) witnessed the 19th Precinct reduce crime –30% over the last fourteen days combined. During week two, the command recorded minor hikes in burglaries, misdemeanor assaults and petit larcenies but still managed to bring overall crime down -11% in that seven-day span compared with last year's data.
In the northern section of the UES, the 23rd Precinct did not fare as well as crime increased +83% combined during both weeks. This command was up in all major crime categories except rape, with 4 shootings and 50 assault complaints filed.
On the Upper West Side (UWS) the 20th Precinct continued to struggle with a remarkable crime surge of +583% combined over two-weeks. Thirty-two major crimes were reported during week one along with 20 more in week two. Robberies, felony assaults and grand thefts are trending out-of-sight while Precinct Detectives try piecing the puzzle together.
The 24th Precinct isn't faring much better showing a +90% rate hike over two-weeks. Major crimes categories are all trending upwards except homicide in this command. Year-to-date the 24th Precinct is 8% higher in crimes recorded versus the same period last year with 6 hate crimes filed as well.
Moving into the Bronx the 44th Precinct is heating up as crime rose +26% and +31% respectively over two weeks. Two shootings erupted during the second week under review while robberies, felony assaults, residential burglaries and thefts all moved higher when compared with last year's figures during the same two-week period.
In south Corona Queens the 110th Precinct recorded +30 higher crime complaints combined over the two-week span. Burglaries, robberies and other thefts contributed to the crime spike.
The 112th Precinct in Forest Hills reduced crime –40% during the two-week time frame compared with last year. Other than a few minor upticks in robberies and felony assaults, this command had fewer crimes reported in most categories.
The 114th Precinct in Astoria continues to trend upwards with crime growing +89% in the last fourteen days. Robberies, felony assaults and grand larcenies drove the crime surge. Year-to-date, the Astoria Precinct is up +29% with increases in every crime classification.
Borough Violence Report:
The Bronx continues to outpace all boroughs when it comes to violence as 31 acts of gunfire blazed the borough causing 3 homicides during the last fourteen days. Year-to-date, Bronxites witnessed 51 homicides (+60%) and 187 shootings (+143%). The past seven days yielded 86 robberies, 112 felony assaults and 1 hate crime.
Brooklyn South sustained 3 shootouts in the last seven days which happens to be less when compared with shooting figures from last year during the same seven-day stretch.
Brooklyn North reported 13 shootings and 4 murders during the last two weeks. Robberies increased by +93% and misdemeanor assaults rose +68%.
Manhattan South is riddled with hate crimes while robberies and assaults trend upwards. On a good note, shootings have declined when compared with last year's stats at this time.
Manhattan North violence continues to roll on as 16 shootings caused 4 murders and wounded 18. Felony and misdemeanor assaults are trending higher thus far this year over last year's figures.
Violent crime erupted in Queens South in week one with 4 shooting incidents, 1 murder, 3 rapes and 31 robberies in just seven days. The following week, Queens South reported minor upticks in shootings and hate crimes compared with the same week last year, but big jumps were recorded in felony assaults and robberies as 79 new cases were filed in seven days.
Queens North struggled with 4 new hate crimes reported and 1 shooting in the last fourteen days. Rapes, robberies, felony assaults and misdemeanor assaults are all trending northward.
Finally, Staten Island reported a hate crime plus hikes in all violent crime categories over the last two-weeks. Year-to-date this borough has logged 6 murders, 13 shootings and 9 hate crimes.
Crime Trends and Forecasts
Crime figures are trending upwards at disturbing rates in all five boroughs of the city. Innocent New Yorkers are tragically victimized by gunfire everyday including the latest victim, a ten-year old boy gunned down while watching television at home as the assailant's errant round found its way through his apartment window and into his young body.
The forecast isn't pretty. The summer temperatures invite crime and Albany lawmakers continue to put their faith and trust in the lawless by ending their legislative session with no assistance for the law abiding or law enforcement on the short term. Long term, City residents will be voting for a new Mayor this year. The Democratic primary is June 22nd, but no relief is in sight since every candidate is running on an anti-law enforcement platform which spells trouble for businesses and law-abiding New Yorkers.
Threat Intelligence as a Service
Sometimes referred to as a threat intelligence report, a strategic intelligence report is used to aggregate information into actionable data and adversary understanding. Brosnan Risk Consultants specializes in intelligence-driven, integrated risk management solutions that enable national and global organizations to operate throughout the world with confidence. Together with our Global Security Operations Center (GSOC), our world-class security services, including threat intelligence products, innovative security technologies, and emergency response services help organizations to mitigate risk and protect their customers, employees, and assets and are an integral part of our Smart Security Solutions.
Threat Intelligence as a Service products can enable your organization to make operational, strategic, and/or tactical decisions by providing you with actionable data that has a high degree of relevancy and probability. This data often used to help steer our client's out of harm's way and protect their brands' reputation.
Want to see how our Intelligence as a Service products can help your organization? Click the link below to learn how to get your custom Intelligence Report.
Thanks for reading!
Need some assistance? Let us know how we can help!