The Bi-Weekly Brosnan NYC Crime Brief is a great example of the type of Intelligence as a Service reports that we offer to our clients throughout the United States. At Brosnan Risk Consultants (BRC), we believe that access to actionable security intelligence is an integral cornerstone of a good security plan.This Brosnan Risk Consultants (BRC) crime brief covers the period in New York City from May 17th through May 30th, 2021. The brief compares year-to-date statistics in 2021 with figures collected from 2020 and compares the most current weekly data in the areas of New York City specific to the business interests of BRC.
Additionally, the brief includes analysis of all data by BRC subject matter experts from the NYPD's Detectives' Endowment Association, Inc., the FBI and the CIA. The source of the data examined is the NYPD's CompStat Unit.
As of June 13th, 2021, crime and violence continue to trend upward with New Yorkers enduring "Chicago-like" shootings and homicides. Year-to-date, New York City has recorded 194 murders and 634 shooting incidents, well outpacing last year's figures by this date. Hate-based crimes are +117% ahead of last year with 273 complaints reported so far and more than half of the year still ahead of us. High-priced luxury autos are disappearing off city streets at a rate of +26% more than last year with 3,847 autos claimed missing.
Over the last two weeks, 71 acts of gunfire claimed 19 lives and wounded 82 people bringing the annual total to 721 victims of gun violence. Further, 25 biased related hate crimes were reported across the five boroughs over the last fourteen days. Commercial burglaries continue to decline which is a positive; however, rapes, robberies, felony assaults, misdemeanor assaults, larcenies and subway crimes are all on the uptick. Despite the city's growing crime wave, lawmakers in the City Council are contemplating additional legislation designed at further discouraging law enforcement from engaging, which simply encourages criminals at the expense of the innocent.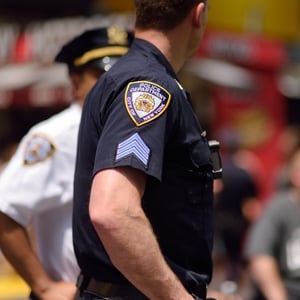 As crime and theft rates continue to climb, retail businesses throughout NYC should strongly consider hiring a company that provides security guard services and also specializes in loss prevention services.
Retail stores and businesses should develop and implement a security plan. It also may also make sense to research and potentially invest in better locks, safes, rolling gates and alarm systems from trusted security vendors and manufacturers.
When planned for accordingly, so much can be done to keep employees and inventory safe from criminal behavior.
Analysis of Crime Statistics Impact to Brosnan's Clients
In Manhattan South crime surged +42% over the last seven days with one murder and one shooting. Hate crimes took a holiday this week below 59th street but year-to-date 73 hate crimes have been reported there. Robberies +160%, felony assaults +131% and grand larcenies +111% claimed responsibility for the surge.
The 1st Precinct reduced crime for the second week in a row registering a –31% dip in the past week. Despite the overall decline, larcenies and assaults are trending higher.
The 10th Precinct covering the Chelsea neighborhood reduced overall crime –49% over the last two weeks in the seven major categories. The command did record 1 murder, 1 shooting and 5 robberies. Grand larcenies grew by +80% this week.
Midtown Precinct South (MTS) recorded conflicting weeks with a crime rate dip of –50% in week one and a +150% hike the following week. Street robberies jumped +700% and felony assaults grew by +900% in a week. Grand larcenies, petit larcenies and minor assaults rose significantly as well. Year-to-date, MTS is up +27% in the seven major classifications when compared with 2020 figures.
Midtown Precinct North (MTN) also recorded conflicting stats with a drop in week one by –37% and an increase the following week by +77%. The surge in week two was rooted in 68 new cases of larceny reported over the last seven days registering a +751% increase.
Above 59th Street the borough of Manhattan North recorded a crime rate jump of +32% with 247 major crimes over the last seven days including 6 shootings. The previous week, the borough collected 3 additional shootings, 1 murder and 4 hate crimes. Year-to-date, 89 shootings have caused 25 homicides in Manhattan North.
In Hamilton Heights-Harlem, the 30th Precinct reports that crime rose +67% in the past week with felony assaults, burglaries and petit larcenies leading the charge.
On the Upper East Side (UES), the 19th Command recorded conflicting figures; crime was down –50% in week one but increased by +80% in week two with 36 major crimes reported in the last seven days. Stolen autos +400%, grand larcenies +90% and petit larcenies +112% claimed responsibility for the hike.
The 23rd Precinct netted a plus +19% during the two weeks under review. One shooting was recorded while burglaries, felony assaults and grand larcenies rose.
On the Upper West Side (UWS) the 20th Precinct reduced crime in week one and gave it back the following week for a net increase of +22%. Grand larceny and petit larcenies continue to pound this command. Felony assaults are trending upwards and surprisingly commercial burglaries resurfaced this week.
The 24th Command netted a –13% reduction over the two-week review period. Most categories fell however, there were minor upticks in rapes and robberies.
Near Yankee Stadium the 44th Precinct successfully reduced overall crime –50% during this fourteen-day stretch however, gun violence is up +146% year-to-date. The annual overall crime rate is up +10% over last year's figures.
Across the bridge in Queens, the 110th Precinct recorded a +111% increase over fourteen days with 24 major crimes reported in the last seven days. Spikes were recorded in all crime categories including 1 murder, 1 shooting and 5 hate crimes in week one. In week two robberies, burglaries and thefts continued to trend higher but petit larcenies finally saw a decline.
In Forest Hills, the 112th Command netted a negative –36% over the two-week period. During the last seven days crime dropped in all classifications. One hate crime was recorded in week one.
The 114th Precinct in Astoria recorded a +42% hike combined over the two-week period with hikes in most categories except felony assaults and burglaries. Year-to-date, the 114th Command is up +29% compared with data released this time last year.
Borough Violence Report:
Five homicides and 25 shootings erupted in the Bronx in the previous two weeks to go along with 135 street robberies. Year-to-date this borough has been pounded with 211 acts of gunfire and 57 murders. Rapes, robberies and felony assaults are up for the year.

Brooklyn South recorded 5 shootings, 1 murder and 2 hate crimes over the stretch. Robberies and assaults continue to trend in this part of Brooklyn, keeping residents alarmed and investigators busy.

Violence in Brooklyn North remains consistent as the borough reported 5 murders and 12 acts of gunfire over the fourteen-day period. Fewer felony assaults and street robberies were recorded last week which is a slight sign of progress.

Manhattan South has become unusually violent this year as 2 murders, 2 shootings and 5 hate crimes occurred over the fourteen-day stretch. In the last seven days robberies and felony assaults measured upticks and sex-related crimes ballooned +160%.

Manhattan North violence continued its upward trend with 1 murder, 9 shooting incidents and 4 crimes of hate. In the past seven days there have been 24 robbery complaints and 153 new assault cases for Detectives to investigate. Year-to-date, above 59th Street, 89 shootings and 25 murders have been reported.

The borough of Queens South sustained 11 shooting incidents causing 3 homicides over the last two weeks. Year-to-date, murders are up +38% and shootings have increased by +21% over figures from last year. On a good note, fewer robbery and felony assault cases made their way to Detectives this week.

Queens North had a run of violence and hate crimes during week one however, the following week's violent crime declined in each category except robberies, which spiked 26% as a result of 29 new complaints.

Staten Island gun violence erupted with 5 shootings over the fourteen days. The street robbery trend was +50% this week, but felony assaults dropped significantly compared with last year's figure measured at this time.
Crime Trends and Forecasts
This Saturday's New York Post front-page photo pretty much summed up the crime trend and forecast for New York City, as a video camera captured a gang-related street execution taking place in broad daylight. As the masked executioner fired on his target, two young children entered the shooters line of fire. The shooter recklessly ignored their innocence and continued his gunfire, miraculously missing the candy-buying tots. This horrific video portrays the random violence that bewildered New Yorkers commonly face every day while lawmakers turn a blind eye. Stay tuned.
Threat Intelligence as a Service
Sometimes referred to as a threat intelligence report, a strategic intelligence report is used to aggregate information into actionable data and adversary understanding. Brosnan Risk Consultants specializes in intelligence-driven, integrated risk management solutions that enable national and global organizations to operate throughout the world with confidence. Together with our Global Security Operations Center (GSOC), our world-class security services, including threat intelligence products, innovative security technologies, and emergency response services help organizations to mitigate risk and protect their customers, employees, and assets and are an integral part of our Smart Security Solutions.
Threat Intelligence as a Service products can enable your organization to make operational, strategic, and/or tactical decisions by providing you with actionable data that has a high degree of relevancy and probability. This data often used to help steer our client's out of harm's way and protect their brands' reputation.
Want to see how our Intelligence as a Service products can help your organization? Click the link below to learn how to get your custom Intelligence Report.
Thanks for reading!
Need some assistance? Let us know how we can help!