Actionable security intelligence provides an integral foundation to a good security plan and our security intelligence services are a cornerstone of how we are continuing to prove ourselves as the best security guard company in NYC. This Brosnan Risk Consultants (BRC) bi-weekly crime brief covers the two-week period in New York City from September 6th through September 19th, 2021.
The brief compares year-to-date statistics in 2021 with figures collected from 2020 and compares the most current weekly data in the areas of New York City specific to the business interests of BRC. We tailor our brief to areas of New York City specific to our business interests to inform and assist clients in their ongoing NY security planning.
Additionally, the brief includes analysis of all data by BRC subject matter experts from the NYPD's Detectives' Endowment Association, Inc., the FBI and the CIA. The source of the data examined is the NYPD's CompStat Unit.
As of September 19th, 2021, year-to-date figures indicate that 66,803 major crimes have been reported in the five boroughs of New York City, which is -0.8% fewer than last year by this date. The violence that gripped the nation last summer, mostly due to emotional responses to the death of George Floyd and COVID frustration, has slowed to some degree and is reflected in the statistics. The annual murder rate has dipped –5% despite a slight +3% rise in shooting incidents. Hate crimes have topped 400 cases representing an increase of +102% and assaults are up +10% city-wide versus last year. Over the past two weeks, street robberies, shootings and assaults (felony and misdemeanor) are trending slightly higher compared to last year's data. However, the overall crime rate has been offset by reductions in the other major crime categories.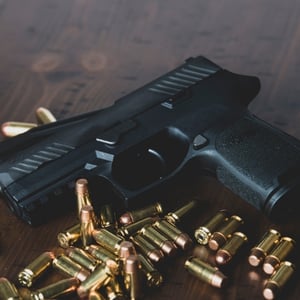 New York City businesses could benefit from developing and implementing a security plan. Many commercial businesses throughout New York City are investing in security guard services and loss prevention services.
As NYC security professionals, we use advanced security measures to deter theft and keep our clients' employees safe from criminal activity. We are one of the few New York City Security Guard companies offering cutting edge Security Intelligence Services to our clients.
This security briefing is just one broad example of the Security Intelligence-as-a-Service products that we offer.
Analysis of NY Crime Statistics' Impact to Brosnan's Clients
Looking at Manhattan below 59th street, crime rose +10% overall with 344 major crimes reported in the last seven days. Manhattan South was free from gun violence, however rapes (+150%), robberies (+167%) and grand larcenies (+3%) pushed the trend. Four new hate crimes were reported over the span.
Below Canal Street, the 1st Precinct's crime rate jumped +42% in the last seven days, sparked by rising street robberies, felony assaults, residential burglaries, and petit larcenies. No gun violence was reported.
In the area near Hudson Yards, the 10th Precinct command strategies effectively drove crime down again this week by –32% with only 26 major crimes recorded. Minor upticks in robberies and misdemeanor assaults were offset by significant reductions in other areas.
Midtown Precinct South (MTS) continues to struggle as drug dealers and other shady characters act with impunity in the confines of this command. Over the last seven days, 56 major crimes were filed including 13 street robberies (+550%), 11 residential burglaries, and 26 grand larcenies. Narcotics sales, which aren't tracked in the NYPD's weekly crime stat figures, play a major role in the crime trend of MTS.
Midtown Precinct North (MTN) recorded 45 major crimes causing a +25% increase from last year. Driving the trend were 5 robberies, 35 grand larcenies, 43 petit larcenies and 16 minor assaults.
Above 59th Street, Manhattan North reported a –9% reduction in major crimes, but 2 homicides caused by 8 shootings and 2 new hate crime incidents overshadowed the crime drop.
In Harlem's Hamilton Heights section, the 30th Precinct experienced a +29% spike with 22 major crimes recorded in seven days. Six new felony assaults and 12 grand larcenies moved the trend in the major crimes category, while 28 petit larcenies and 8 misdemeanor assaults led the non-major category trend.
On the Upper East Side (UES) the 19th Precinct once again dropped crime by –19% despite 1 act of gunfire and 44 major crimes reported in the last seven days. Uncharacteristic increases in rapes and felony assaults were offset by reductions in every other major crime category.
The 23rd Precinct also recorded a shooting incident however, crime dropped –27% overall. Detectives at the 23rd Precinct are concerned with 10 new felony assault cases that rolled in last week driving that category up +150%. The assaults appear to be random, leaving investigators to rely mostly on video footage to bring the cases to successful conclusions.

On the Upper West Side (UWS) the 20th Precinct reduced crime by –26% in the last week. Minor upticks in felony assaults and grand larcenies were recorded but were offset by significant drops in all other major crime categories.
In the northern section of the UWS, the 24th Precinct also recorded a –13% reduction with a minor uptick in grand larceny cases while all the other major categories fell.

Near Yankee Stadium in the Bronx, the 44th Precinct wrestled with a +61% hike including a murder and a shooting that wounded three others. Eleven street robberies (+38%), 23 felony assaults (+186%), 7 burglaries (+133%) and 21 grand larcenies (+31%) contributed to the crime rise.
In Queens, the 110th Precinct crime rate rose +8% with 39 major crimes reported over the last seven days. Reductions in rapes and robberies were recorded this week however, spikes in felony assaults, burglaries and larceny complaints drove the rate increase.
In Forest Hills, the 112th had a +31% rate increase compared with last year, sparked by 11 grand larcenies (+120%) however, all other categories saw reductions. Checking with 112th Precinct Squad Detectives, the spiking grand larcenies are a result of cell phones, computers and other electronics being stolen.
In Astoria, the 114th Precinct recorded 47% fewer crimes this week compared with the same week last year. All crime classifications were down for the seven-day stretch except burglaries, which notched a minor uptick.
Borough Violence Report:
In the Bronx, 7 new shootings erupted causing 3 homicides and wounding 7 others. In one week, 6 females were raped, 83 people were robbed and 123 people were victims of felony assault.

Brooklyn South registered 5 acts of gunfire, wounding 6 people in seven days. Rapes and felony assault cases jumped slightly, while robberies fell despite 25 new complaints filed.

Brooklyn North violence exploded with 8 shootings, wounding 10 and killing 2. Additionally, 52 street robberies, 68 felony assaults and 2 rapes were reported.

Manhattan South recorded no acts of gun violence however, 4 hate crimes, 5 rapes, 48 robberies and 31 felony assaults rounded out the weekly violence report in this borough.

Manhattan North recorded 8 shootings, 2 homicides and 11 injuries from gun violence. Rapes and felony assaults trended higher, and robberies fell slightly.

Queens South survived 2 new shooting incidents with injuries only. All major violent crime categories dipped over the seven-day lookback.

Queens North also survived a shooting with just minor injuries, while all other major crime categories, involving violence, fell.

Staten Island recorded significant hikes in felony and misdemeanor assaults, but rapes and robberies fell compared with figures reported last year at this time.

It is safe to say that if you own or operate a business in one of New York City's hot zones, it may benefit you to consult with a reputable NYC Security Guard company.
Crime Trends and Forecasts
Whether we focus on New York City or any other major city in America, the common denominator is politicians who just don't get it because they're lost somewhere between ideology and incompetence. Ironically, ideologies have them drawing political lines in the sand about vaccine mandates aimed at protecting children from COVID, yet their same ideologies compel silence about what's really killing our young: gun violence.

Last weekend in Chicago, 56 shootings erupted in just 48 hours resulting in 9 deaths and a large portion of the victims were kids and teenagers. In North Carolina, three-year-old Asiah Figueroa died from a gunshot wound to his head as he slept in his bed at 3am during a wild "150 round shootout" between rival drug gangs that took place outside the innocent child's home. On September 19th, USA Today reported in America from January 1st, 2020, through September 11th, 2021, 5,100 children were shot and 1,300 were killed, while the CDC reported 516 children died from COVID-19 during the same time frame.

Over the last twenty months, gun violence has claimed triple the number of young lives than COVID-19. Until political leaders and mainstream media outlets address and acknowledge the gun violence pandemic, our forecast is for crime and gun violence to continue its upward trend.
Threat Intelligence as a Service
Sometimes referred to as a threat intelligence report, a strategic intelligence report is used to aggregate information into actionable data and adversary understanding. Brosnan Risk Consultants specializes in intelligence-driven, integrated risk management solutions that enable national and global organizations to operate throughout the world with confidence. Together with our Global Security Operations Center (GSOC), our world-class security services, including threat intelligence products, innovative security technologies, and emergency response services help organizations to mitigate risk and protect their customers, employees, and assets and are an integral part of our Smart Security Solutions.
Threat Intelligence as a Service products can enable your organization to make operational, strategic, and/or tactical decisions by providing you with actionable data that has a high degree of relevancy and probability. This data often used to help steer our client's out of harm's way and protect their brands' reputation.
Want to see how our Intelligence as a Service products can help your organization? Click the link below to learn how to get your custom Intelligence Report.
Thanks for reading!
Need some assistance? Let us know how we can help!