A security services company provides a wide variety of security-related services including uniformed security officer services to commercial properties, including public buildings, retail stores, commercial properties, and office buildings, as well as private bodyguard services to executives, VIPs and celebrities.
The
US Bureau of Labor Statistics
(BLS) defines security guards and gaming surveillance officers as being responsible for patrolling and protecting property against theft, vandalism, and other illegal activity. According to the BLS, security guards fall under the major occupational group of Protective Services, which include everything from police officers and firefighters to lifeguards and transit security screeners.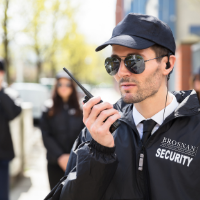 Security guards work in many types of places, including commercial buildings, department stores, big box retail companies, sports arenas, event spaces and transportation hubs, including airports and train stations. Gaming surveillance officers work mostly in casino observation rooms, using audio and video surveillance equipment. Since many buildings and casinos are open 24 hours a day, security guards and officers typically have shifts around the clock.
Security services companies typically offer their programs as part of a comprehensive monthly contract. A security contract can include personnel, like security officers, remote monitoring, emergency response teams, security consulting, background checks, and investigation services.
A commercial security contract could include a full ecosystem of methods, products, and services by which a business or commercial property protects against theft, fire, damage, or destruction. Some common commercial security contracts include security officers, video monitoring systems, biometric locks, alarm systems, computer security software, fire suppression systems, and emergency response programs.
Many of the best security services companies offer additional services including:
Fire Guard Services - Fire guards offer fire safety support, are necessary to reduce the threat of fires in a variety of locations and often mandated by law. For example, fire guards are used when a sprinkler system is not yet installed (such as at a construction site). Fire guards are also essential when an automatic fire protection system is taken out of service while repairs are being done.
Pandemic Related Security & Support – Businesses throughout the world are currently dealing with challenges due to the COVID-19 pandemic. The top security services companies are providing support in this area in the form of Social Distancing Officers, Thermal Screening Officers, and Elevator Control Officers.
Retail Loss Prevention Services – More than just security guards watching the back door to a stockroom, today's Retail Loss Prevention Services are more comprehensive and include crafting store policy, employee theft situations, data protection, safety and risk management, inventory audits, legal compliance, and matters related to organized retail crime and fraud.
Emergency Response & Disaster Recovery Services – Unfortunately, after a major disaster, looting and civil disorder are common. Some situations could severely hinder a business' capabilities to operate freely. A security services firm that offers Emergency Response & Disaster Recovery Services is your best bet for dealing with a major crisis. An Emergency Response Security Contract provides the immediate response of security personnel for any major emergencies or unexpected disaster situations, including natural disasters, civil unrest, protests, and public hazards. Emergency Response Teams are deployed to ensure business assets are safe while business and property owners and their employees are away.
Lobby Security Guards and Attendants – These security officers oversee front desk operations that includes answering and responding to incoming calls, greeting, and directing visitors, and general administrative duties.
Construction Site Security Contract – Property developers and contractors sometimes hire security guards to help with construction site security. Uniformed security officers can be a great deterrent to thieves. Having their physical presence on-site is often enough to intimidate trespassers.
Access Control Service – In the world of physical security, access control is deciding who to allow into your building or private space. This can be done through a manned portal or access point, by an electronic entry system or a combination of both. Access control could also pertain to digital assets, whereby a digital access control system can help you effectively protect your data from various types of intruders.
Concierge Security Services – These security officers are stationed at the front desk area of an apartment building, condominium, hospital, hotel or resort and also act as a host to provide visitors with relevant information.
Security Consulting – Organizations hire a security consultant to assess all security measures being utilized (or underutilized) throughout a property or organization. They analyze security systems and programs and study security personnel. They identify potential opportunities for security breaches and they suggest various preventative measures and solutions.
How to Choose the Right Security Service Company
There is no such thing as a one-size-fits-all security contract and there is no one-size-fits-all security services company. The best advice that can be given about choosing the right one is to shop around. Speak to local security companies as well as national brands. Gain an understanding of what sets the best security companies apart from each other. In short: do your homework.
Before committing to any security contract, first create a list of what you need to protect at your facility. Have an understanding of what your priorities are. Then ask each security company you speak with how they would devise a security plan for your business. Does their methodology make sense to you? Do they have the same level of passion for their role that you do for yours? Hiring the right security company is a big decision. To some extent, they will become an extension of your brand. Are they the right fit for your culture?
Need some more advice? Let us know how we can help!
Thanks for reading!